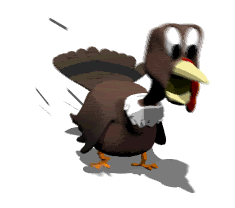 ...Until I am running a 5K. I have never (officially) run a 5K in my life. I have, in fact, run 3 miles at one time, but it was a long time ago. I weighed 25 lbs less, I was infinitely more toned and had lots of time to spend at the gym and running at the park.
Tanya
called me last night to say she'd signed up for a 5K on Thanksgiving morning and do I want to do it with her. "Sure," I say. I'm happy to do it, although it's questionable as to whether or not I will run the entirety of it.
I got home today after lunch and sat down on the couch. I was waiting for Christopher to get off the computer so I could use the internet when it dawned on me that this 5K is going to happen. And it's happening in less than a month. Therefore, instead of sitting my chubby butt down in front of the computer, I should probably put on some sweats and tenni's and hit the pavement. So that's what I did. I donned aforementioned gear, walked out the door and around the corner, and I began to jog. I lasted for approximately 3 minutes until I started walking again. During my first 20 minutes out, I had a few more spurts of 1-2 minute runs, but gave it up completely in my last 20.
Somehow, in the next 25 days, I have to turn that initial 3 minute jaunt into 3 miles. Good Lord in Heaven, what was I thinking?
I am happily accepting any pointers or encouragement any of my loyal readers might have for me from now until Thanksgiving Day.